Model features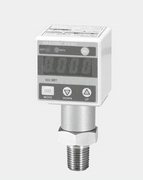 Name :
Digital Manometer
Model No.:
GC61 Series
Overview:
This digital pressure gauge has built-in highly reliable semiconductor evaporated type pressure sensor. Digital display , pressure transmitter and pressure switch are compactly integrated , and loop check and scaling functions are installed.
Feature:
The sensor and the connector are fully welded to ensure good durability and stability;
High IP level;
Equipped with varied intelligent functions.
Specification
External Dimensions
Model number configuration